The Alentejo: peaceful, pretty and perfect for polyphony
posted on 08/04/20
Our new music festival Polyphony in Portugal celebrates the region to its fullest extent, says Fiona Charrington.
The Vasco da Gama bridge in Lisbon is the most exhilarating drive. At least it should be. In late January it was wrapped in mist and lashed with rain, both times we crossed it. 'It will be different in May', we confidently nodded.
Our trip to the Alentejo was the second recce for our new Martin Randall Festival Polyphony in Portugal, which will take place 16–21 May 2021. By then spring will be entering summer, and the deep rurality of this little-visited pocket of Portugal will be at its best: gentle warmth, wildflowers, everyday life in the town squares.
The idea is that our audience of up to 140 will choose between three hotels, in three different places. Elvas, the largest of our bases (population 16,500), is up against the border with Spain, and on a clear day you can make out Badajoz. Entirely contained within its 16th-century ramparts, this handsome town has much to recommend it. Winding, narrow, whitewashed streets lead up (and down) to some incredible churches, fortifications, shops(!) and good restaurants.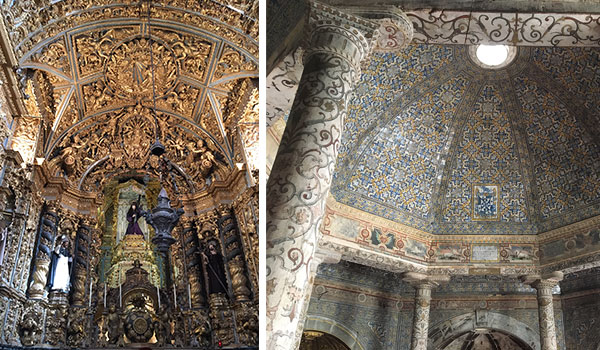 Photographs (taken by Fiona). Left: Elvas, Igreja dos Terceiros. Right: Elvas, 17th-century azulejos at the Igreja das Dominicas.
Top: the Ducal Palace square at Vila Viçosa.

At Vila Viçosa, some 17 miles away, we stay in the former convent adjacent to the Ducal Palace. This is a town built with style, ambition and a firm hand on planning. The castle precinct (housing the beautiful Igreja de Conceiçao) rises up one incline, a further church on another, with a very appealing square joining the two. And of course, there's the palace and its associated chapels. Whiling away a sunny day here would be easy.
Our third base, and the one that captivated me beyond all pectation, is the Hotel Convent of São Paolo. Set on a hillside surrounded by cork and holm oak and grazing livestock, it retains its monastic tranquillity but with comparative comfort and much charm. Peter Philips (director of The Tallis Scholars) stayed here in 2019 and said, 'essentially this is a dream hotel'. I agree. For those wishing for a countryside experience, this is the place.
Whichever base you choose, you will hear all the concerts. Some just with those in your hotel, some with everyone. The three audiences move around the region and spend time at each-other's base. The logistics we take care of, and we will not rush you.
The Tallis Scholars, Odhecaton and Cupertinos accompany the festival, and each group performs two different programmes of choral music, from Portugal and beyond. Tallis make a third appearance to round off the week. Given the remote locations, the musicians are very likely to be staying in our three chosen hotels allowing you time to sit and chew the fat.
We hope you join us on this one. Obviously, I am biased, but I really do think it will be special.
Fiona Charrington
Chief Executive
Fiona prospected the Alentejo with Edward Fairbain, Festival Manager of Polyphony in Portugal.
Polyphony in Portugal
16–21 May 2021
Seven private concerts by world-class musicians: The Tallis Scholars, Odhecaton and Cupertinos.
The churches and chapels of the Alentejo provide a variety of venues; some gloriously baroque, others beautifully tiled, many not usually accessible.
Talks on the music by Professor Owen Rees and Peter Phillips.
Choose one of three hotels in Elvas, Vila Viçosa, or a converted countryside convent.
Travel by plane or train, with the option of joining a pre- or post-festival tour.
To register your interest, please e-mail alerts@martinrandall.co.uk
View all Martin Randall Festivals