Martin Randall: The charms of Prague
posted on 16/08/17
My first visit to Prague in 1985 was a revelation. I had not anticipated the hundreds of acres of utterly enchanting streetscape, the magnificent architecture of every era from Romanesque to early Modernism, the magical appeal of distinctively Czech forms and designs.
I was captivated – even though the buildings were blackened by pollution and neglect, hotels and restaurants few and shops practically non-existent; Communist rule had been impoverishing the country in every way for nearly forty years. A frequent visitor ever since, I was lucky to experience the joy of watching the city being repaired, restored and opened up after the 1989 Velvet Revolution.
Over the next couple of decades Prague came to match other 'western' capitals for prosperity and sophistication. (Politics distorted geographical perception: far from being in eastern Europe, Prague is at the heart of the continent – in fact 200km closer to Dover than Vienna.) Tourists poured in too, but equilibrium has now returned as facilities better match numbers, and back-packers and stag parties have moved on to more affordable destinations.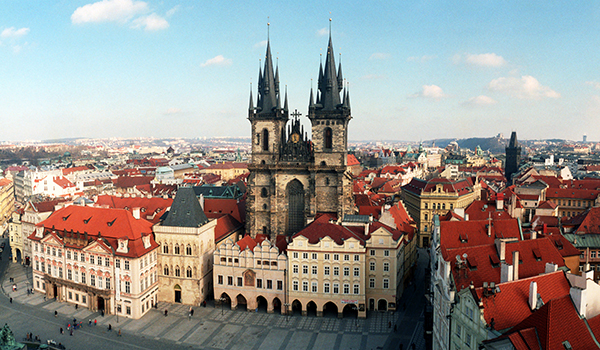 Prague, Old Town Square (Church of Our Lady Before Týn in centre)
Remarkably, there was one year in the 1990s when the Czech Republic became Martin Randall Travel's second most popular destination. In 2001 we staged a music festival there – and we remain puzzled why we allowed a seventeen-year gap before the next one.
For 2018 we have a very exciting line-up of musicians for programmes that explore all aspects of Czech music in some of the finest halls and churches in the region:
The Wihan Quartet: Mysliveček, Koželuch and Dvorák in the Baroque hall of the Břevnov Monastery.
The Sixteen with Harry Christophers: Renaissance Polyphony, Bohemians and Byrd, in the Gothic Church of Our Lady Before Týn in the Old Town Square.
Lucie Špicková (mezzo-soprano) and Lada Valešová (piano): songs by Dvorák at the Schebek Palace, a nineteenth-century financier's opulent home.
Collegium 1704 with Václav Luks: Zelenka's Missa Omnium Sanctorum in the elaborately embellished Church of St James.
Bennewitz Quartet: composers from the Terezín concentration camp, in the Alhambra-inspired Spanish Synagogue.
Classical Opera with Ian Page: Vaňhal, Koželůh, Mozart & Gluck at the Žofín Palace, a historic entertainment hall.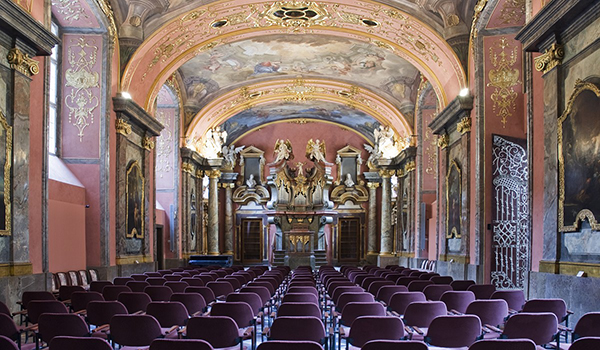 Mirror Chapel, Klementinum

Collegium Marianum with Jana Semerádová: Czech High Baroque, Jiránek, Reichenauer, Brentner in the beautiful Mirror Chapel in the Klementinum.
The Wihan Quartet and Martin Kasík (piano): Janácek, Smetana and Dvorák in the richly decorated turn-of-the-century Sladovsky Hall.
Prague Symphony Orchestra with Petr Altrichter (conductor): Smetana's Má vlast in the concert hall dedicated to the composer in the Obecní dům (Municipal House).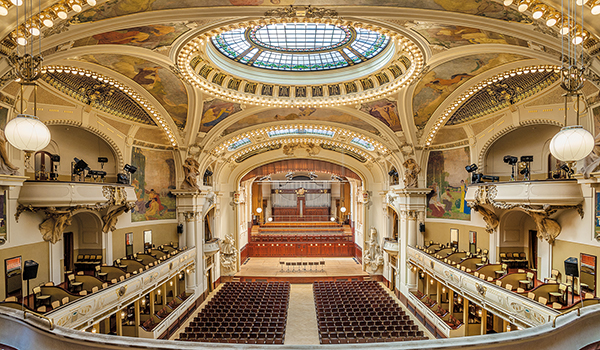 Smetana Hall, Obecní dům
A Festival of Music in Prague runs 13–19 June 2018 and also includes lectures from Czech music expert Professor Jan Smaczny and on European History from Professor Tim Blanning. For full details, view the festival webpage here.
By Martin Randall.
Book now on A Festival of Music in Prague
View all tours to the Czech Republic