Vietnam – some war, mainly peace
posted on 26/04/18
As we approached Hanoi, dozy from the long flight from London, we were greeted by the multi-coloured spectacle of the Nhat Tan Bridge, lit up at night, swiftly followed by another colourful feast, the night-time flower market. In the days that followed, our first impressions of this luminous, awe-inspiring country would not be disappointed.
The next day we found our bearings in Hanoi with a cyclo tour of the historic centre, exploring its fascinating maze of back streets, followed by a street food tour sampling local delicacies, such as vegetable rolls, broths, bun noodles and traditional egg coffee – a welcome antidote to jetlag. The Temple of Literature (aka the Confucius Temple), founded in the late 11th century, was the first university in Vietnam. It is now a popular place of prayer for students before exams and for photos afterwards, in full graduation garb. The Tran Quoc Pagoda, located on a small island on the west lake, is the oldest pagoda in Hanoi. Other highlights of the city include St Joseph's Cathedral, the Natural History museum, with its fascinating prehistoric artefacts and the Ethnology museum, which houses an extensive collection of traditional objects from Vietnam's 54 ethnic minority groups.
After three days in the capital, we travelled to Halong Bay, a unesco World Heritage site and the world's largest marine limestone karst landscape. My words just can't do it justice, so I have included a photo I took in an attempt to capture some of the wonder it inspired. On our cruise we passed floating villages, underground caves and climbed up rock formations for jaw-dropping views.
Next we flew to Hue, Vietnam's capital from 1802 to 1945, where we took a dragon boat down the perfume river, passing water buffaloes and paddy fields on our way to the seventeenth-century Thien Mu (Heavenly Lady) Pagoda, which still functions as a monastery, peacefully situated on the riverfront with a large collection of Bonsai and Frangipani trees. Hue is home to many private garden houses, a couple of which we visited, and whose inhabitants explained to us the fascinating geomantic principles underpinning their construction. However, Hue is best known for its Old Citadel. Surrounded by a moat and stone walls, it encompasses the Forbidden City and the Emperor's Palace, as well as lesser known, but no less spectacular sites, such as the queen mother's residence.
Taking a scenic train down the coast to Danang, we continued by road to the sleepy coastal city of Hoi An. After a compulsory Bánh mì (the famed baguette, introduced by the French) we walked through the old quarter. Here ancient merchant houses display Chinese, Japanese and Vietnamese architectural influences; there is a sixteenth-century Japanese bridge and the Assembly Hall, with its intricate woodcarvings. The market brims with local specialties; meanwhile, a stay in Hoi An is arguably incomplete without a visit to one of the many tailors, where you can see all the stages of production, from the silkworms spinning and the machines weaving, to an overwhelming selection of fabrics from which to choose for your garment.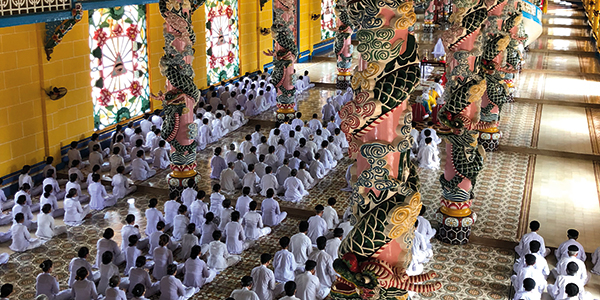 Cau Dai temple, Saigon.
Our final stop was Saigon, an architectural cocktail of French colonial style, social realism (designed or influenced by the USSR), pagodas and communal houses with many Chinese features, merchants' residences, modern buildings and vernacular houses. Here we took a jeep tour, passing sites such as the iconic Opera House, Notre Dame Cathedral – a red brick edifice with twin spires constructed from materials imported from France – the Central Post Office, completed in 1891, and Reunification Palace, the headquarters of the Saigon Government during the American War until the Viet Cong stormed its gates in 1975. One day we ventured out to the infamous but fascinating Cu Chi tunnels, a network of connecting underground routes that were integral to the Viet Cong's success in the war. This was coupled with a peaceful visit to the Cau Dai temple whose elaborate, multi-coloured architecture reflects its creed's combination of Taoism, Buddhism, Confucianism, Christianity and Islam. We concluded our trip with a restful final day on the Mekong Delta, where we cruised past banana and pomelo plantations, stopped off at a brick factory, a coconut farm and a rice mill.


By Emmanuela Wroth
Operations Executive