Tours to Germany's UNESCO sites in 2019
posted on 26/06/18

The Rhine River, with its tributary the Mosel, was the busiest river in mediaeval Europe, a major highway for people, goods and ideas, and a source of wealth for both cities and feudal lords. This prosperity fuelled the construction of some of the finest works of the Romanesque school. Also of huge historical importance in the Rhineland is the era of Charlemagne, and the way in which Carolingian architecture served as a prelude to Romanesque.
We visit 5 UNESCO sites on this tour. These include Aachen, Charlemagne's favourite palace, and one of the oldest cathedrals in Europe. It was consecrated in 805, and from 936 to 1531, the cathedral's Palatine Chapel was the church of coronation for thirty-one German kings and twelve queens. Another precious vestige of Carolingian Europe is Lorsch Abbey, whose gatehouse is a curious mixture of elements of the Roman triumphal arch, and local architectural traditions (such as multi-coloured masonry).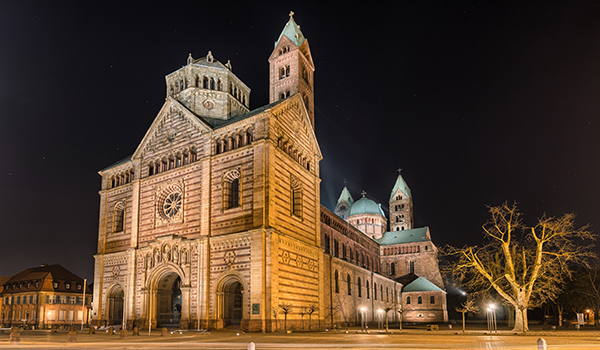 Speyer Cathedral.
Cologne has the highest concentration of Romanesque churches anywhere, such as St Maria im Kapitol, which introduced clover-leaf apse clusters and St Gereon, with its unique dome and arcaded decoration. Elsewhere, Trier at one time was the capital of the Roman Empire, and its surviving Roman buildings, including the city gate and throne hall of Emperor Constantine, were a key influence on German Romanesque. Finally, the imposing Speyer Cathedral in its pretty parkland setting is the largest surviving Romanesque church, and was the burial place of the Salian emperors.
Five hundred years ago, the Hanseatic League was a great power in Northern Europe, encompassing over two hundred cities and possessing the might to wage a successful war against the kingdom of Denmark. Today, Germany's Baltic coast is little-known to non-natives, partly because its parade of picturesque towns and wonderful mediaeval buildings was locked behind the Iron Curtain for nearly forty years. No longer, of course, and now is the best time to visit the region, with many historic sites having benefited from huge investment into the restoration of their heritage.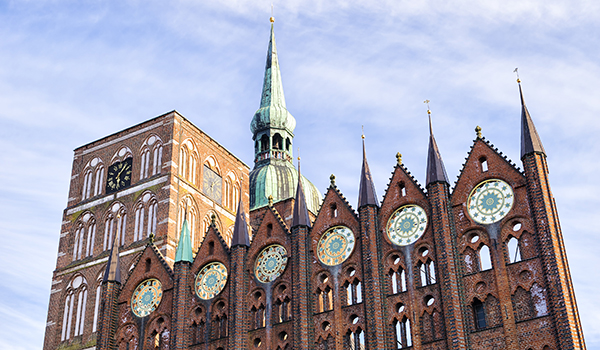 Stralsund Town Hall.
Three UNESCO towns feature on this tour, which starts with Lübeck; the first and most powerful of the Hansa cities. Highlights here include the soaring Gothic church of St Mary's, and St Catherine's, which houses Tintoretto's Raising of Lazarus. Elsewhere the towns of Wismar and Stralsund were key in the development of the Brick Gothic movement in the Baltic region, where buildings are distinctive for their use of fired brick. Notable examples of this are St Nicholas's Church in Wismar, and Stralsund's remarkably dramatic Town Hall (shown above), completed in 1278.
Given its short and turbulent history, the achievements of the Bauhaus were extraordinary. Evicted from Weimar, riven with ideological differences and shut down by the Nazis, this was still the 20th century's most influential art school. Their vision was for designs based on clean, simple geometric forms with bare surfaces that they considered appropriate for mass production and efficient living. 100 years later, the truly avant-gardist Bauhaus continues to inspire.
The key Bauhaus centres of Weimar and Dessau have been designated UNESCO sites and feature prominently on the itinerary of our special centenary tour. Highlights of the former include Bauhaus school buildings designed by van de Welde, the Bauhaus Museum and Gropius's Expressionist, abstract Trades Union Monument. Dessau is home to Gropius's restored Bauhaus Building, which houses student accommodation, as well as an auditorium, stage and canteen. Dessau's Master's Houses are also fine examples of the movement, of which Gropius's and that of Hungarian artist László Moholy-Nagy were fitted exclusively with modern furniture by Marcel Breuer.
Our other German tours and their UNESCO sites


Baroque & Rococo (8–16 August 2018) – Bamberg, Bayreuth, Würzberg
Frederick the Great (13–17 August 2018) – Potsdam, Charlottenburg, Berlin, Museums Island
King Ludwig II (20–25 August 2018) – Lake Starnberg
Music in Franconia (25 August–1 September 2018) – Regensburg, Bamberg Franconia
Franconia (7–14 September 2018) – Würzburg, Bamberg, Bayreuth
Berlin, Potsdam, Dresden (20–28 September 2018) – Berlin & Potsdam
Hamburg: Opera & 'Elphi' (5–9 October 2018) – Hamburg
Mediaeval Saxony (29 April–7 May 2019) – Corvey, Hildesheim, Goslar, Quedlinburg
Mitteldeutschland (21–29 July 2019) – Quedlinburg, Weimar, Naumburg