Decanting the Wines of Tuscany: traditional and modern
posted on 28/02/19
The city of Siena, aptly named by locals, la città magica, provides the perfect canvas for six days of leisurely vineyard strolls in the seductive landscape and whispered descents into silent cellars, barrel-full of promise. What could be better than sipping generous glasses of rich, oaked Super Tuscans while overlooking the very vines on which they originated? Here, MRT's Lucy Cole describes a rewarding recce in Tuscany.
The opulent former palace of the Grand Hotel Continental is a welcome cocoon in the hubbub of the city. But to step outside is to find yourself at the heart of the UNESCO World Heritage Site, and on the prestigious walkway of Banchi di Sopra: aromas of freshly ground coffee exude from the historic Nannini bar opposite, the sound of a festival drummer beats in the distance, and a parade of children clad in medieval apparel throw flags en route to the piazza.
From this utopia, armed with just a map and an underused spittoon, we set off each day, bravely navigating Tuscany's cork-screw roads in search of the most reputable but authentic wineries.
Our quest for a traditional example was no better rewarded than at the Isole e Olena in Chianti Classico, whose esteemed history dates back to the 12th century. The humble buildings are situated in a tranquil setting, nestled in the crevice of a steep valley covered in weighty vines and woods. The establishment is run by the De Marchi family, third-generation vignerons whose love for their dogs is as evident as their passion for traditional wine-making. Signora De Marchi is everything you could wish for in the head of a rustic winery: an unyielding, no-nonsense matriarch whose initial reticence about meeting us quickly gave way to the warmest of rapports.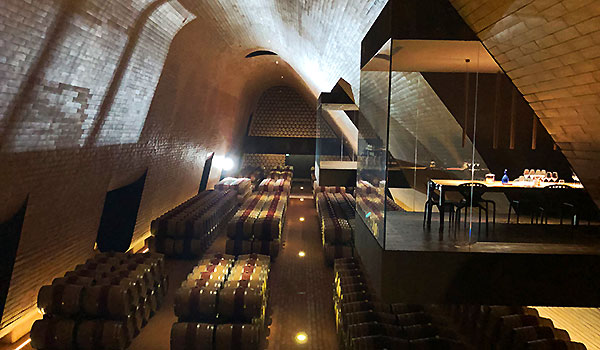 Wine cellar at Antinori.


A few days later, having flitted across the region scoping several satisfying sites for the tour, we found the ultimate 'modern' contrast at Antinori nel Chianti Classico. (I hasten to add that this visit was planned before Meghan Markle's public endorsement of the drink, but we thank her for the promotional boost nevertheless!) Antinori sits imposingly on the hillside like a well-dressed bouncer outside a bar; the unabashed steel architecture demands respect from all who encounter it – and indeed why should it not, when the wine produced is so powerful? What followed was a hospitable and historical tour of the outstanding site: glass-walled tasting rooms suspended surreally above perpetual rows of barrels; musky, spiced perfumes pervading deep cellars; finally, an exquisite taste of the heady liquid to coat our mouths in silk.
After a week among the vines in Tuscany, one thing is certain: our trip was full-bodied and well-balanced, and Antinori provided the perfect finish, just as it does for our tour.

By Lucy Cole, Operations Executive
View itinerary for Wines of Tuscany - Traditional and modern in spectacular surroundings
View all wine and gastronomy tours