A romantic escape: Italy by rail – by Jo Felton
posted on 23/10/23
On a sunny day in September last year, Martin Randall Travel's Jo Felton set off with husband Howard on honeymoon for the south of Italy.
I knew when I planned this trip that – after months of fielding invitation replies, agonising over menus, creating a table plan that didn't offend anyone, working out exactly how to string up 80 metres of fairy lights, and all the other various minutiae of wedding preparations – we would want to feel like we were on holiday straight away. Also high on our minds (and constantly in our news feeds) was the climate crisis, and so it seemed obvious that travel by train would be the way.
I don't think we have ever made a better decision. After an only slightly fraught tube journey to St Pancras, we departed on the Eurostar for Paris Gare du Nord, from where we made a 10-minute hop down to Gare du Lyon on the RER. After enjoying some Croque Monsieurs on the steps of Gare du Lyon, we set off by high-speed TGV for Turin where we'd decided to stop over for two nights – it isn't possible to do the full trip down to Naples in one day, so we thought we would take advantage and visit the city properly.
On the six-hour journey from Paris to Turin, there is plenty to see out of the window, with the scenery whooshing past changing from cityscape, to fields, to undulating hills, to snow-capped mountains. I loved crossing under the Alps – darting into a tunnel in France and popping back out in Italy. And ensconced in generous and comfortable seats, we felt like we were in a 1st Class carriage.
Turin itself is a lovely city, with wide, elegant avenues, parades of smart boutiques, sweeping piazzas and plentiful galleries and palaces to explore. I recommend the Palazzo Reale, with its flamboyant sequence of rooms, and GAM: Galleria Civica d'Arte Moderna & Contemporanea Torino.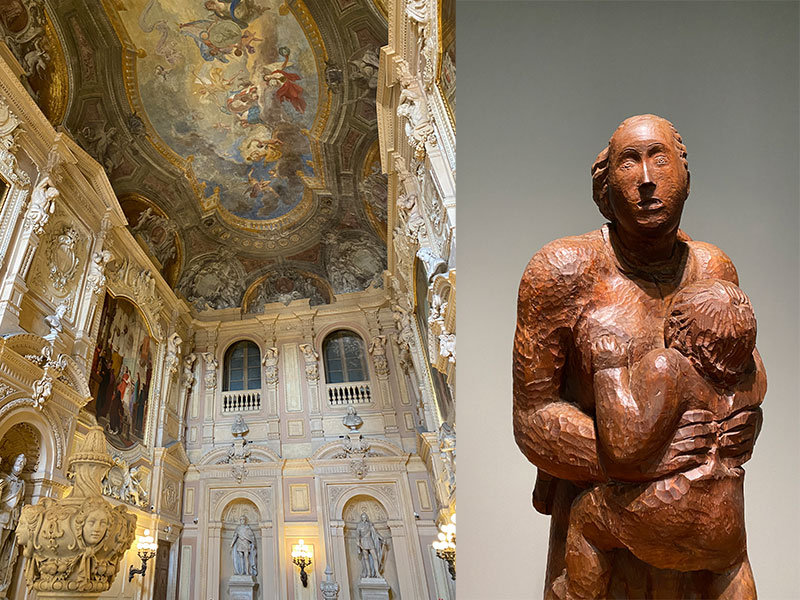 Jo's photos of Turin. Left: Palazzo Reale. Right: an exhibit at GAM.
After this leisurely stopover, we were left with just the leg down to Naples to go. The Frecciarossa is Italy's TGV, travelling high-speed down the length of Italy. Again, we were very comfortable and there was capacious luggage storage – necessary with our stuffed suitcases. The views out of the windows frequently ranged from beautiful to spectacular; particularly memorable was the expansive Tuscan landscapes and, of course, the slightly ominous presence of Vesuvius looming into view on the approach to our final stop.
I could talk about Naples for days. I fell in love with it in all of its overwhelming splendour and squalor. Its cobbled, narrow streets passing between cliff-faces of apartment buildings. Its tourist-trap shops and terrifying drivers. Its astonishing quantity of antiquities, and deep, complicated history. The food is beautiful and made with the freshest and often simplest of ingredients – everything we ate was delicious, even in the most inexpensive of restaurants. The pizza is, of course, to die for (deep-fried pizza is the speciality!)
Flying home at the end of our holiday, due to time constraints, was necessary. A non-eventful journey and not one to write home about, or on here. Certainly not even slightly comparable to our 'voyage' down, which truly felt like it was all part of the holiday. It is more expensive to travel by train into Europe than to fly, but if you book far enough in advance it isn't too eyewatering. I thoroughly recommend it, the next time you holiday with us in Europe, and we at MRT are always happy to advise you.
If you are interested in some of our tours that already include travel by train into Europe from London, in 2024 these include: String Quartet Biennale Amsterdam, Opera in Paris, Versailles: Seat of the Sun King, A Festival of Impressionism, Medieval Burgundy, The Plantagenet Empire and French Gothic.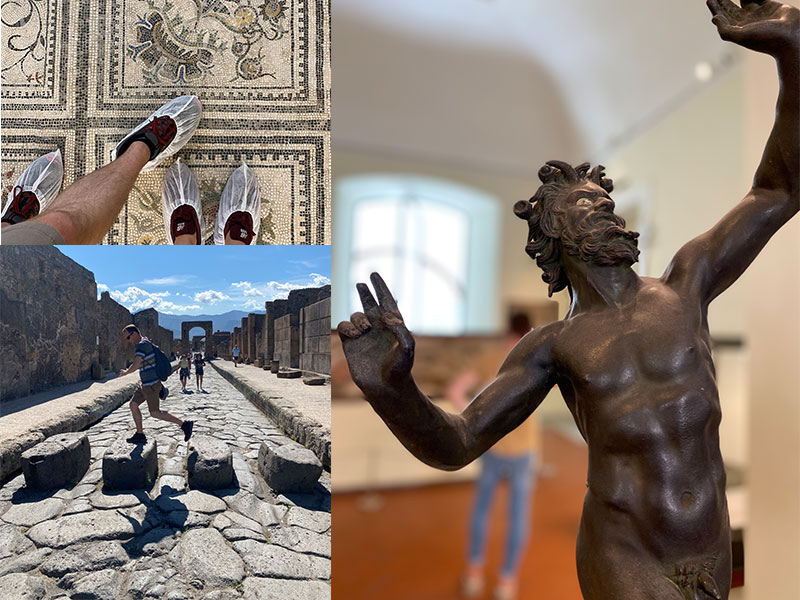 Jo's photos of Naples and Pompeii. Clockwise from top left: floor mosaics in the Archaeological Museum; the Dancing Faun, also in the Archaeological Museum; crossing the road like a Roman in Pompeii.
Our travel itinerary, from London to Naples:
London St Pancras to Paris Gare du Nord by Eurostar = c. 3 hours 20
Transfer in Paris (RER line D) = 10 minutes
Paris Gare du Lyon to Turin = c. 6 hours
Turin to Naples = c. 6.5 hours
Online resources:
seat61.com – a treasure trove of information. Ideas for routes, advice on booking tickets, and local information (I used it when researching how to reach Pompeii and Vesuvius from Naples).
thetrainline.com – UK website that also contains timetable information for trains in Europe. It was a useful first point of call when planning our journey as a whole, but not to book tickets (they are not released as early as on the European websites).
raileurope.com – similarly to the trainline, a useful tool for planning your overall journey. You can also book tickets here.
eurostar.com – I booked our Eurostar tickets direct.
trenitalia.com or www.italiarail.com – for Italian rail tickets. The latter is arguably slightly easier to use.