Culinary culture in Italy's Le Marche
posted on 11/12/18
Very much off the beaten track, the foods and wines of Le Marche are excitingly different, with history, art and culture to be found around virtually every corner. Here, Gastronomic Le Marche lecturer Marc Millon shares some of the highlights for the tours second departure, 20–27 May 2019.
Flying in to Rome, we cross the Apennines to start the tour in Ascoli Piceno, one of the most charming and delightful small cities in Italy. Staying in an ancient palazzo in the medieval heart of the city, we gain an immediate taste of Le Marche with an aperitivo of anisetta Meletti, sampled with olive ascolane and a glass or two of Pecorino.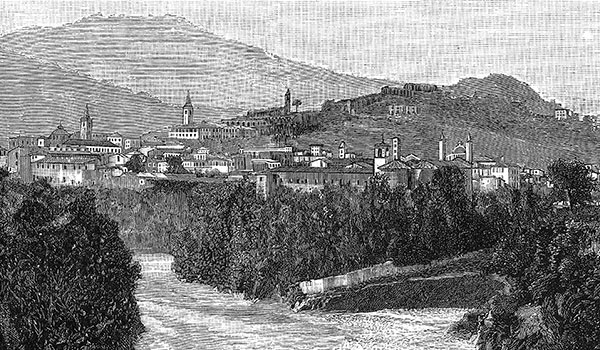 Image: Ascoli Piceno, wood engraving c. 1880.

In Le Marche, you are never far from the sea or the mountains and the cuisine reflects this. At Portonovo, we dine with our feet virtually on the beach on a feast of antipasti di mare followed by spaghetti coi moscioli – spaghetti served with a sauce made from the protected wild mussels of Portonovo. Gathered by hand by a dwindling band of intrepid fishermen and divers, we meet them to learn about their craft.
The cuisine of Le Marche equally straddles the gastronomic traditions of southern and northern Italy. The peperoncino-spiked and rustic flavours of Ascoli contrast with the more sophisticated culinary styles as we head north towards Emilia-Romagna. At Senigallia, we enjoy a refined two-Michelin-star dining experience at Uliassi, one of the best seafood restaurants of Italy.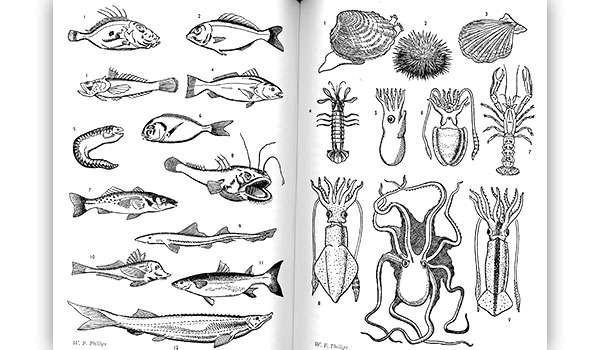 Image: Seafood, wood engraving.

Around Acqualanga we search for black truffles with the aid of trained truffle dogs, before sampling formaggio di fossa, a rare cheese matured in underground grottoes. We also discover a rarely encountered wine, Bianchello di Metauro, which has been produced here since the time of the Romans. When the Roman army defeated Hasdrubal (brother of Hannibal) at the Battle of Metaurus, they credited their victory to the vast quantities of Bianchello consumed before the conflict.
Not forgetting the distinguished arts of the region, in Recanati we discover the works of Giacomo Leopardi, Italy's greatest lyric poet, as well as view a magnificent Annunciation by Lorenzo Lotto. We see art and sense centuries of faith in the nearby Santuario della Santa Casa of Loreto and we learn of the power of the mighty Montefeltro, great patrons of the arts, when we visit the Ducal Palace during our stay in Urbino.
These are just a few of the flavours we will enjoy on our explorations through this still-undiscovered region. I am very much looking forward to co-hosting this tour with art historian Dr Thomas-Leo True, who has lived in the region and knows Le Marche well. It would be a great pleasure for us both to have your company.
More information about Gastronomic Le Marche