Epicurus and Asclepius, en route to Arcadia
posted on 18/03/19
A simple meal adds an element of its own, when digesting Greece's rich history, says MRT's Will Harvey.
There are several ways to experience the quintessence of Greek culture. Surely one of the most effective, however, is to enjoy a leisurely, traditional meal off the beaten track, such as the one we enjoy at the Kalogerikon restaurant on day three of the Classical Greece tour.
Set inland from the coast of the Saronic Gulf, it is a traditional Greek taverna. The welcome is typically Greek in its warmth and sincerity, qualities that have been honed over millennia by a people well-adjusted to travellers from foreign lands. A menu of bread, olives, stuffed vine leaves, spanakopita, salad, sea bass and candied mandarin and Greek yoghurt is served in a shaded courtyard girt by orange trees groaning with fruit. The experience is a rich one, and the group lingers for a couple of hours before moving on to the site of Epidauros nearby.
Epidauros was known as the healing centre of the ancient world. Set in a peaceful, verdant valley with many natural springs, the site is evocative and atmospheric. It is a most suitable sequel to the lunch that has preceded and contextualises it. Epidauros was home to arguably the most famous cult of Asclepius, for which the earliest evidence dates to the sixth century bc. Asclepius was a divinity who represented the healing aspects of the medical arts. Ill and infirm pilgrims would converge on Epidauros from far and wide to beseech the god for cures. To discover the right treatment for their ailments, patients would spend a night in the abaton. In their dreams, the god himself would advise them what they would have to do to regain their health or cure them of their complaints as they slept. The visit concludes with a magnificent view from atop the theatre, itself considered the most perfect of its kind with regard to acoustics and aesthetics.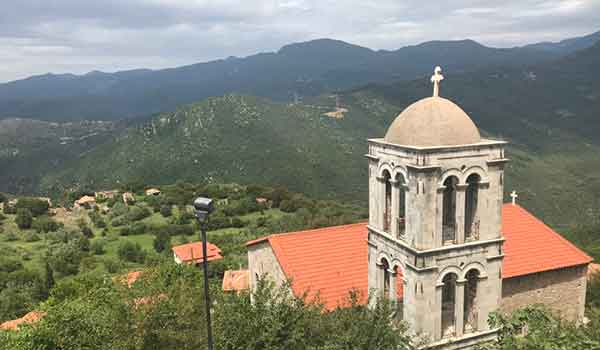 The Arcadian mountains.

While the light softens, the group returns to Nafplio, its base for the first three nights of this tour. A charming and romantic seaside town that clambers up the surrounding hills, the town's history traces back to the prehistoric era, when soldiers from here participated in the Argonautic expedition and the Trojan War. Nafplio's narrow alleyways are overflowing with jasmine and bougainvillea and lend themselves to gentle exploration. As the evening gradually melts into dusk, children play in the town square and the wafts of Greek cooking from nearby restaurants intermingle with the sweet scent of the flowers. It is a perfectly serene end to our stay in Nafplio, before the tour travels onwards through the mountains of Arcadia.
View itinerary for Classical Greece