Hindsgavl or Lofoten: Two contrasting music festivals in Scandinavia
posted on 26/03/20

Whether at Hindsgavl or Lofoten, Rachel Jones celebrates the choice of two contrasting music festivals in Scandinavia, both offering time for tranquil reflection in natural settings.
There are few better illustrations of the extensive research and specialist knowledge behind our tours than the offer of a choice between two different secluded Scandinavian island-based chamber music festivals. We plan to alternate these by year to make things easier, but neither choice could be a wrong one.
When thinking of group travel, isolation is rarely your first thought. Yet to be isolated with like-minded companions in rural Scandinavia, with few tourists and fewer English voices, surrounded by natural beauty and a wealth of world-class music? That is an isolation to be welcomed.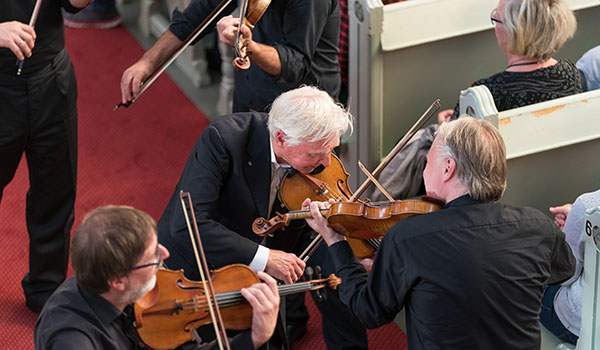 Photograph courtesy of Lofoten Islands Festival.


A far cry from the bustle of Copenhagen, Hindsgavl Slot lies on the coast of Funen, Denmark, with its own deer park and grounds. Wander through the manor house, our base for the week, and hear musicians rehearsing for today's evening concert in the old stables, or perhaps catch an afternoon concert in the Garden Room. Walk out to the grounds and the views to the sea could inspire poetry – walk on to the Hans Christian Anderson pavilion and realise that they did.
Seclusion is tempered by exploration of Funen, Denmark's middle island; a trip across the Lillebaelt bridge to the art and architecture of Aarhus; a boat trip around said Lillebaelt, the water responsible for those inspiring views. But ultimately you return to the manor, which for a while becomes your own, for home-grown food, wonderful company and a steady supply of excellent chamber music.
Or perhaps you would prefer an expedition further north? The Lofoten islands lie just off the Northern Norwegian coast and boast their own summer music festival. A single night in Oslo offers a stark contrast, an insight into the busier face of Norway, before retreating to the dramatic, remote beauty of the Arctic circle.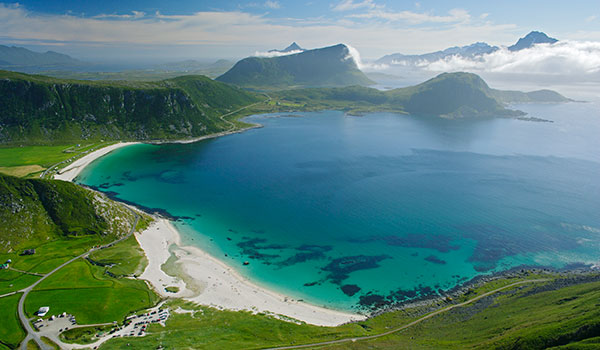 Hauklandssanden in the Lofoten Islands ©Baard Loeken.


Here you become an island-hopper, traversing the archipelago to small, intimate venues, mostly local churches, linked by winding roads through fjords and mountains. If Hindsgavl creates its own musical world within the house, Lofoten blends the music with the landscape of the islands themselves, a wonderful marriage enhanced by guided walks around lakes and through countryside, coach journeys along the coastline, and late-night concerts illuminated by the extraordinary midnight sun.

By Rachel Jones.
In addition to our Scandinavian offerings, Rachel also works on our tours to German-speaking countries and Spain.
Image top: Hindsgavl Castle ©Hindsgavl Festival.
To register your interest in either the Lofoten or Hindsgavl festival tours in 2021 or 2022, please e-mail alerts@martinrandall.co.uk