Postcards from Palestine
posted on 18/05/20

Peter Branch, a keen photographer who worked for Kodak for over 40 years, joined our Palestine Past & Present tour in October 2018. A visit to the British Museum subsequently inspired him to present a selection of his images in a particular – and appropriate – way.
Photography in Palestine presents its own set of challenges not least the vast range of subject types: desert Landscapes, street photography, religious sites, archaeological sites, architecture, the list is long. This combined with any number of styles: photojournalism, documentary, record, travel etc. can make it difficult to know how to approach the task.
It is not a place amenable to a slow contemplative style. Things happen fast in totally unpredicted ways. The visual cliché is all too tempting and it's too easy to get fixated on the Separation Wall with its clever and endlessly fascinating graffiti. Everything will be handheld as tripods etc. are simply not practical or likely to be accepted.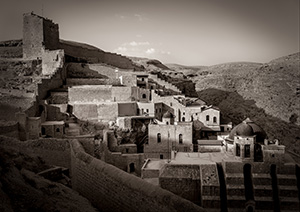 Mar Saba Monastery.

There are surprisingly few official restrictions on photography other than the universal ones regarding government and military sites – but – one is strongly advised not to include any Israeli Defence Force, (IDF), personnel in any picture.
Back to the UK, I had hundreds of digital images which I processed and edited to produce a few sets which were duly distributed to some of the other participant. All well and good but frankly a dead end. Looking back, they were something of an unfocused hotchpotch.
About a year after returning a couple of visits to the British Museum brought me face to face with photographs of the Levant taken at the end of the 19th and beginning of the 20th centuries. They had a distinctive style reminiscent of those we had been shown from the famous photographic collection of The American Colony Hotel in East Jerusalem.
At about the same time the PIC Group of Amersham Photographic Society invited members, like me, to consider showing a small set of six prints. I decided to produce one based on my Palestine photographs printed in the distinctive style. At the January meeting the normally highly critical, that's why I like them, audience were unusually enthusiastic. This encouraged me to explore the idea further. The set currently consists of 25 photographs.


The Dome of the Rock on the Haram al Sharif – Temple Mount.

My advice to others would be to take equipment which is easily portable, versatile and readily available. I used a Leica SL with a 24 to 90 mm zoom lens. Spare batteries are almost essential as power cuts can sometimes make recharging a problem. If you can have a theme/style in mind as you take photographs it will pay dividends when you return. I didn't and now wish I could go back and try again with sepia toned monochrome prints with their vignetting and critically sharp detail as the clear objective.

Written by MRT client Peter Branch on 9th April 2020.
View the photo album on Flickr
View itinerary for 'Palestine Past & Present'