'Stone on Stone: The Men Who Built The Cathedrals' by MRT lecturer Imogen Corrigan
posted on 08/04/19
"Just how did they do it?" is a question we often ask ourselves while admiring the scale and exquisite detail of medieval churches and cathedrals. MRT lecturer Imogen Corrigan's new book, Stone on Stone: The Men Who Built The Cathedrals, considers this through the lives of the individuals involved and the challenges they faced.
Presenting the full story of the men behind these intricate edifices, Corrigan considers the many complexities surmounted, including financing, sourcing materials and construction techniques. In an age before even the simplest of power tools, it is a wonder that hundreds of years later these astonishing buildings still stand as monuments to their ingenuity and skill.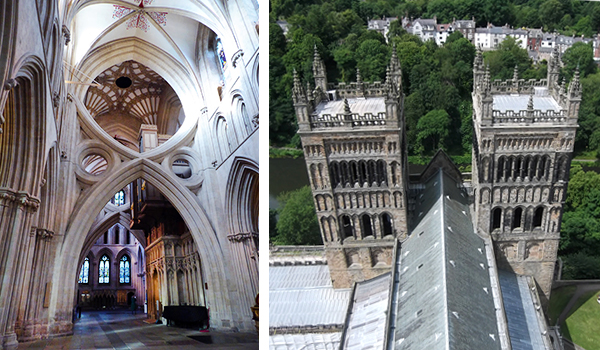 Wells Cathedral (interior) and Durham Cathedral (exterior).


Join Imogen Corrigan on our UK tour Dorset Churches - Parish churches, abbeys and minsters (23–27 September 2019). Sherborne Abbey is the highpoint of this five-day tour of Dorset's towns and villages and their delightful religious buildings. It retains the Saxon doorway from its early 8th-century origins, as well as stunning Gothic fan-vaulting in the nave from later additions. However, just as much pleasure can be derived from the close details of smaller churches. An Anglo-Saxon font carved from the base of a cross at St Mary's at Melbury Bubb, an effigy of T.E. Lawrence at St Martin's-on-the-walls and a medieval hammerbeam roof at Bere Regis; these are just some of the highlights that we uncover.

Imogen Corrigan. Specialist in Anglo-Saxon and medieval history. She spent 20 years in the army, retiring in the rank of Major, then obtained a first-class degree in Medieval History from the University of Kent, and has been studying and lecturing ever since.
View itinerary for Dorset Churches - Parish churches, abbeys and minsters
View all tours with Imogen Corrigan
Image top: Salisbury Cathedral.