The Stuarts: a dysfunctional royal dynasty, 1603-1715
posted on 24/06/19
The seven monarchs who make up the Stuart Dynasty ruled over a turbulent realm, one which was deeply fractured by political partisanship and divided by religious dissension. In this age of civil war, succession crises, and rebellion, the Stuart monarchs themselves, alongside their spouses, offspring, and favourites added fuel to the fire of socio-political tension with in-fighting, factionalism, betrayal, and treachery. And yet the Stuart age has left behind a myriad of artistic, architectural, and cultural wonders. This fascinating London Day will be an eye opener not only for our discovery of the wealth of Stuart material culture which survives in central London, but also for dealing head-on with the notion of 'Dynasty'. How does a dynasty function? What happens when individuals in royal families clash? How do historical personalities help shape the events of the past? We will explore these and other crucial questions on this lively and illuminating London Day.
The Tudor dynasty ended upon Elizabeth I's death in 1603. The 'Virgin Queen', left no direct heir – therefore, her cousin King James VI of Scotland, became James I of England and Ireland. After centuries of Scottish resistance to English rule, an accident of birth ended up uniting the countries under one ruler.
It is well-known that James I, a passionate Protestant, immediately faced Catholic resistance in the form of a plot to blow up Parliament in November 1605, what is less understood is that his wife, Anne of Denmark, was an ardent Catholic convert. Tensions between the royal couple were exacerbated by James' reliance on male 'favourites' such as, the Duke of Buckingham.
James' heir, Charles I, undertook a reign in which high taxes and increasingly authoritarian attempts to strip Parliament of its power led to civil war. After years of battles between the Royalists and the Parliamentarians, Charles was imprisoned, and then executed for treason in January 1649. His French Catholic wife, Henrietta Maria, played a major role in the crisis of monarchy in this period and we will explore the dynamic which existed between this arts-loving, but flawed, royal couple. The beheading of Charles I was a major break with the tradition of regarding the monarch as God's anointed representative on earth, and it ushered in a new conception of monarchy in Britain, not simply during the Commonwealth Period, but during the Restoration era and throughout the later Stuart decades.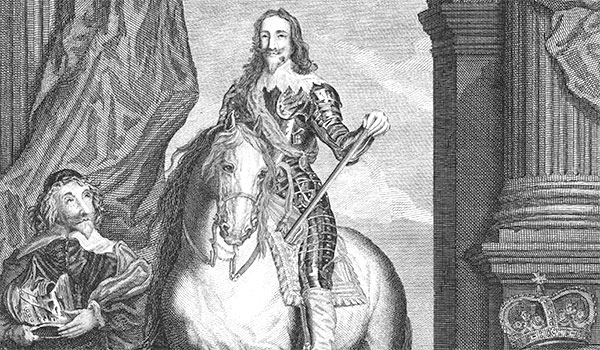 Charles I with Seigneur de St Antoine, engraving after Van Dyck.


'Accessibility' was the hallmark of Charles II's reign. Disregarding the stiff formality of the French court of Louis XIV, Charles, 'the Merry Monarch' realised that his survival depended on his relationship with Parliament and the people. During his reign London society flourished and culture – painting, architecture, drama, and music – blossomed. But sitting beneath the ribbons and laces of the restoration era ran a deep vein of religious intolerance and anti-Catholic prejudice.
When, in 1685, Charles II died without a legitimate heir (although he had a brood of bastards), the throne passed to his Catholic brother, James II. After just three years, the ardent Protestants of England decided to oust their Catholic king and his Italian Catholic wife and their Catholic baby son, the Prince of Wales, and in 1688, James II's eldest daughter Mary, and her husband William of Orange, invaded England to take up the crown. The public quickly rallied behind the couple, and James II fled to France. This takeover became known as the Glorious Revolution, although, as we will discover, a re-evaluation of this period shows a very different picture.
Finally, James II's youngest daughter, the unremarkable Queen Anne, was instrumental in doing a most remarkable thing: it was she who set about uniting England and Scotland into one nation, and the Acts of Union of 1707 were signed after much negotiating by commissioners that she appointed. Upon the signing, Anne attended a thanksgiving service in St Paul's Cathedral, and she also became the first monarch to ever rule over Great Britain. But at what cost? Anne had betrayed her father and had denied her halfbrother his place in the succession. She died childless, having given birth to seventeen children who predeceased her, and with her the official line of the Stuart dynasty ended.
Join Professor Lloyd Llewellyn-Jones, whose latest research focuses on the marriages of James II and the disfunction of his family, in uncovering the remarkable story of the Stuarts. Sites considered on the day, include:
National Portrait Gallery – explore the portraits of the Stuart kings and queens and their courtiers in this rich collection of state portraits, allegorical images and exquisite miniatures.
National Gallery – van Dyke's magnificent equestrian portrait of Charles I provides a way in to explore the Stuarts as art collectors and to put the Stuarts into a wider European context.
Banqueting House, Whitehall – the site of masques and court dramas the ceiling of the Banqueting House, designed by Inigo Jones, shows the apotheosis of a James I as masterpiece by Rubens. The exterior of the building was the site of the regicide of Charles I.
Parliament Square – a chance to acknowledge the role of Oliver Cromwell in the Stuart story and to note his own use of royal imagery.
Kensington Palace – a wonderful opportunity to discover the elegant interior and grounds of this late Stuart royal residence.
View the itinerary for The Stuarts London's legacy of a remarkable dynasty