Beyond Bauhaus: Germany's modern architecture
posted on 13/04/20
George Jerger shares his enthusiasm for a new tour that reflects Germany's modern architectural development and engages with history and ideas, as much as with buildings.
My interest in modern architecture developed while growing up in southern Germany, before joining MRT I worked for the UK Twentieth-Century Society and I am married to an architect. Consequently, Moving on: Memory & Architecture in Stuttgart & Munich has some very personal resonance. Designing it has been a highly stimulating experience.
Boosted by the popularity of our Bauhaus architectural tours, the concept of this one is to explore the evolution of modernist architecture in pre-war and inter-war Germany, its suppression under National Socialism and its re-emergence from ashes and devastation after the Second World War.
The tour will show how architecturally and intellectually Munich dealt with the aftermath of wartime destruction, and especially, how it tackled difficult questions of reconstruction; whether to attempt to rebuild the city as it was, or to recreate it with entirely newly designed buildings. We will explore the arguments and ask ourselves these questions, but having lived in Munich for over 10 years I feel the city managed to get the mixture just right.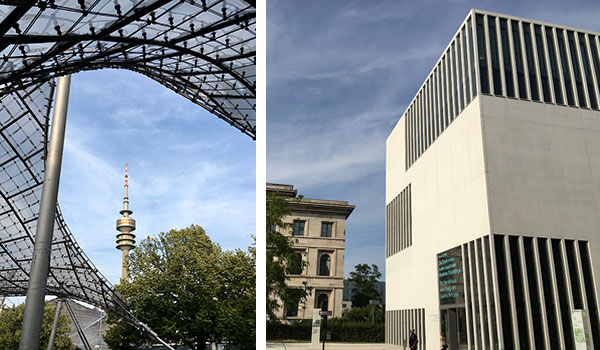 Munich: Olympic Site (Behnisch and Partners, 1972); Führerbau now College for Music and Theater (Paul Ludwig Trost, 1937) and NS Documentation center (Georg Scheel Wetzel Architekten, 2015).
I am a big fan of Hans Döllgast, for example, whose creative reconstruction of the Alte Pinakothek, rather than disguising bomb damage, visibly and attractively incorporates repairs to the building, sensitively embodying its scarred history.
I also admire Sep Ruf, another leading modern architect of postwar Germany, who has somehow been largely forgotten. We will see his high-rise social housing apartment block (Munich's first), as well as the American embassy and the Neue Maxburg, which integrates a ruined 16th-century tower, into a 1950s office block.
As with many Münchner, my favourite site is the groundbreaking Olympic stadium and park, designed by Frei Otto and Günter Behnisch for the 1972 Olympics.
The biggest discovery for me scoping the tour was Ulm, west of Munich, where recent architectural innovations have impressively superseded postwar preoccupations with the car. An immense 1960s motorway that dissected the centre has been decommissioned and space reclaimed for some fine new architecture, such as the Kunsthalle Weishaupt. An earlier more worthwhile postwar legacy is the Design School, founded in 1953 by Inge Aicher-Scholl (Sophie Scholl's sister), Otl Aicher and Max Bill (a Bauhaus pupil) and designed by the latter.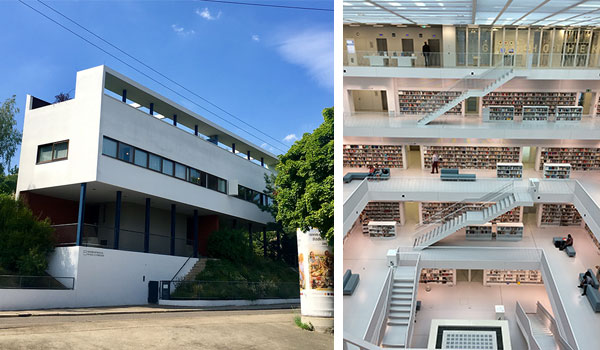 Stuttgart: House Nos 14 & 14 Le Corbusier; Library (Eun Young Yi, 2011).
In Stuttgart, the Corbusier house in the Weissenhoffsiedlung has been renovated, the last time I visited in early 2000 it was in a rather sad state. 2021 is the time for this tour. I am excited – I hope you will be, too!
George Jerger
George works on our German tours and supervises our USA programme.
To register your interest in Moving on: Architecture & Memory in Stuttgart & Munich (25–31 May 2021), please e-mail alerts@martinrandall.co.uk
View all art & architecture tours