MRT lecturer Marc Millon savours the spirit of Italy in Friuli-Venezia Giulia
posted on 17/11/20

I always tell people that a Martin Randall gastronomic tour is very different to a 'gourmet' tour. The latter might involve mainly going from one hallowed Michelin star temple of gastronomy to the next, all brilliant I'm sure, but possibly lacking the cultural context that is so vital to our approach. Our aim, always, is to gain a deeper understanding about a place and its people, the landscape, history and culture, through the foods and wines that we encounter and enjoy along the way. That is exactly what we set out to do on our recent tour of Friuli-Venezia Giulia, a little visited corner of northeast Italy with a rich historical and gastronomic legacy.
In Italy, more so than anywhere else on earth, you know precisely where you are by what you eat and drink. Julius Caesar founded Forum Iuli – modern Cividale del Friuli – which gave the region its name and a wealth of culinary influences; the Lombards, arriving in the sixth century, brought their own pig with them and developed home-curing methods that remain a feature throughout Italy; the Venetians left their mark on the architecture as well as on the cuisine through its use of exotic and unusual spices; while the Austrians brought a love of pastries and developed a sophisticated coffee culture in Trieste and elsewhere.
Trieste is a city that has experienced difficult times and found ways to endure and adapt. At the Antica Trattoria Suban, the current patriarch, Mario Suban, told us that the jota we ate – the classic soup of beans, pork and sauerkraut – was made to the exact same recipe his great-grandmother had first used 155 years ago. In the intervening years Trieste had been port of the Austro-Hungarian empire, part of unified Italy, controlled by the Fascists and then the Nazis, occupied by Tito's partisans, briefly made a Free Territory before becoming part of the newly formed Republic of Italy. Yet through all these dramatic changes, the jota, served by six generations of the Suban family, had changed not one single iota.
We learned about polenta, the staple food of the region, at the Molino Persello, and we sampled the sweetest and most delicate of air-cured hams, prosciutto di San Daniele, at source at Casa del Prosciutto, a small, family prosciuttificio in the eponymous town. We saw and smelled tractors full of vinacce – wine-drenched single-grape-variety pomace – arriving at the artisan distiller Nonino to be packed into small pot stills for distillation. Here we took a grappa masterclass, tasting and learning how this fiery yet smooth spirit of Italy is produced.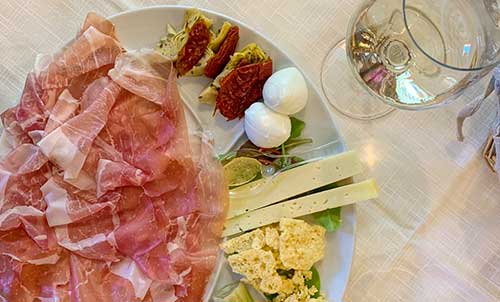 Casa del Proscuitto, San Daniele del Friuli.

View the photo diary on our Facebook page


We visited some of the region's greatest restaurants, as well as simpler and more humble places where the food was just as genuino and delicious. At the Trattoria al Cacciatore, one of the points of reference for the gastronomy of the region, the Sirk family introduced us to a richly authentic cucina. It included pastas that I had never heard of, let alone sampled, which reflect the close influence of Slovenia (the border is but a kilometre away), such as the delicate girini, served with courgette flowers and the first of the porcini mushrooms, and mlinci, a flat pasta first toasted then boiled and served with vegetables and goose.
At Michelin two-star Agli Amici we were welcomed warmly, as if into a private house, and there enjoyed a tasting menu based on territorio, assembled in the most creative and delicious way. A coffee ravioli filled with goat's mascarpone bathed in a sea urchin and butter sauce brought together the coffee culture of Trieste, the sea flavours of the lagoon of Grado, and the mountain scents of the malga (high summer huts where the transhumance still takes place). This wonderful dish was paired with an equally extraordinary wine, Josko Gravner's Anfora, the deep, intense flavours of coffee and sea urchin matched by the rich, amber tones of this wine fermented in terracotta amphora. By contrast, the next day, we took a boat trip in the lagoon of Grado, then dined in a simple fishermen's cooperative restaurant, Zero Miglia, feasting on boreto, a classic and humble dish of the lagoon, the daily catch slow-braised in a pepper, vinegar and wine broth; the wine accompaniment, jugs of gutsy Friulano from the vineyards of nearby Aquileia.
Wine certainly is an important feature throughout the region. We discovered, sampled and enjoyed wines produced mainly from autochtonous grape varieties little encountered outside the region, such as Friulano, Ribolla Gialla, Malvasia Istriana and Vitowska for whites and Schioppettino, Pignolo, Refosco del Peduncolo Rosso and Terrano for reds. We drove through the heart of vine-covered Collio to visit Marco Felluga's Russiz Superiore, and at the Cantina Produttori di Cormòns we learned how the region had rebuilt itself after the devastation of war to concentrate collectively on the production of quality wines from its indigenous grapes. There, the wine growers had also created a poignant vineyard, the Vigneto della Pace, a reminder of turbulent times. Planted with grape varieties from throughout the world, they are harvested together to produce the unique Vino della Pace – the 'wine of peace' – a bottle of which is sent annually to every head of state in the world.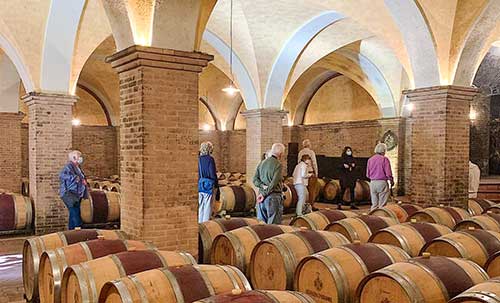 Marco Felluga's Russiz Superiore, Collio.

Friuli-Venezia Giulia has experienced more than its fair share of suffering and turmoil, conflict and conquest. Enduring hardship and rising above it is part of the character of its people. Paul the Deacon, writing his History of the Lombards in the late eighth century, describes periods of ravaging war. Natural disasters, too, have left their mark. Paul writes of a plague and floods 'such as believed not to have existed since the time of Noah'. Like much of Italy, the region is prone to earthquakes. The last major of these took place in 1976 and is still vividly recalled. A story told by Giovanna, our guide in Cividale del Friuli, captures something of the indominable spirit of the people: "We were living in Udine with my grandmother at the time. She had survived World War I, World War II, and the occupation by the Nazis. When the earthquake hit, our building was really shaking, but Nonna ordered us all to stay inside because it was safer. When we eventually emerged, neighbours were in a state of near panic but she calmed them. 'Look,' she said, 'We are here, and we are all still alive. What we need now is a good bottle of Refosco.'"
Robert Louis Stephenson famously wrote, "Little do ye know your own blessedness; for to travel hopefully is a better thing than to arrive, and the true success is to labour".
During our week in Friuli-Venezia Giulia, we were truly blessed. We travelled with masks on our faces and hope in our hearts, grateful just to be able to journey at this difficult time. We laboured to learn and to appreciate all that this amazing and resilient region had to offer. We feasted, we drank deeply, and we celebrated. It was a pleasure and a privilege to be part of, and it made us all even more eager and hungry for Martin Randall tours to recommence in 2021.

By Marc Millon
MRT lecturer

Comments from tour participants
'Even in the present circumstances everything was taken care of and I felt safe and looked after throughout.'
'I am so glad I plucked up my courage and went ahead with the tour, it will remain a highlight of this depressing year.'
'Thank you to all at Martin Randall for making this such a great experience in very trying times.'
'Excellent' hardly begins to cover our overall level of satisfaction on this occasion: say about two hundred percent.'
View itinerary for Gastronomic Friuli-Venezia Giulia