Our first tour departure since March 2020
posted on 18/09/20

'The Hanseatic League', 19–26 August 2020, was our first small-group tour to depart since the beginning of the pandemic. We – along with twelve clients from the UK – had looked forward to it for many months. Below you can read about our preparations and the measures taken to reduce the risk of Covid-19 transmission during the tour, and view a photo diary courtesy of Tour Manager Julien Clin.
Over eight days on Germany's Baltic coast we studied the visible remains of the Hanseatic League, which are often spectacular, frequently enchanting. Highlights included Lübeck's soaring Marienkirche and Bad Doberan Abbey – perhaps the crowning achievement of ecclesiastical Gothic architecture in the Baltic. Stralsund's UNESCO listed medieval streetscape with its gabled merchant houses offered further testament to the League's extraordinary wealth. The tour was led by Andreas Puth, expert in medieval architecture.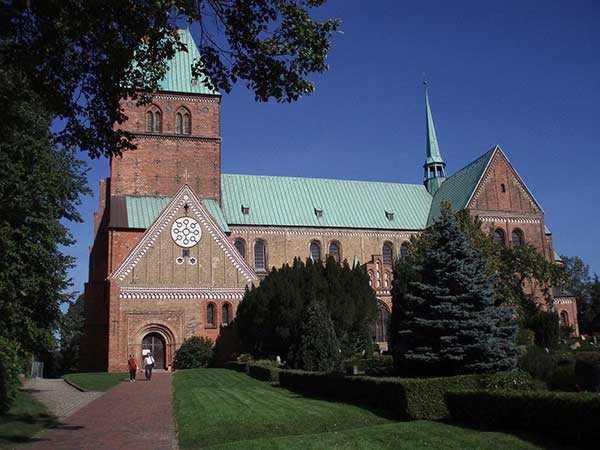 Ratzeburg. The Romanesque cathedral, founded in the 1160s by Henry the Lion, Duke of Saxony, marks the onset of monumental vaulted architecture north of the River Elbe.


Comments from tour participants
'A fantastic trip for us. We found all the safety measures you put in place more than covered any concerns we might have had about Covid[-19]. We wouldn't hesitate to continue to recommend MRT and would reassure any trepid travellers that the outside world is not to be feared! Once again, thanks for all your help – the trip (almost) felt like normal!'
'Julien was always available, attentive and helpful. Very ready to help with any issues that arose along the way. He and Andreas were also enjoyable and engaging company.'

Ahead of the tour, we talked to every venue we were due to visit, to our hoteliers and to restaurant managers. We discussed the extra measures in place to mitigate the risks of catching Covid-19, shared our requirements and requested their compliance. Similarly, we worked closely with our coach company, plotting the seating for our group of 14 on a large coach, and the cleaning regimes in place.
Our clients were asked to confirm they were in good health in the run-up, and free of the symptoms of any infectious illness on the day of departure.
Guidance from UK and German authorities was issued ten weeks before departure, and again two weeks before. This included when/where a face covering was required, additional measures in place at airports, social distancing rules in Germany and how we would comply with these on the coach, during visits, at restaurants and in hotels.
Radio guides allowed our lecturer to do his job unhindered by social distancing measures, while our clients could easily maintain the requisite gaps between them.
Lübeck. European Hansemuseum – the world's largest museum dedicated to the history of the Hanseatic League.


View the photo diary on our Facebook page



Tours departing in the next two months
Gastronomic Friuli-Venezia Giulia, 11–17 October
Civilisations of Sicily, 12–24 October
Pompeii & Herculaneum, 19–24 October
Tintoretto, Titian & Veronese, 26 October–1 November
Venetian Palaces, 10–14 November
London Days
London Squares Walk, 10 October
Whitehall, 18 & 21 October
London Organs Day, 23 October
London Choral Day, 23 November
Please contact us if you would like to find out more about any of the above tours. We will be delighted to hear from you.
By Tim Greenhalgh
Operations Manager (Germany)

View the photo diary on our Facebook page
View itinerary for The Hanseatic League
View our tour programme for 2021