Olivetti: Corporate Beneficence and Design Excellence, by Dr Philippa Joseph
posted on 23/04/20
Modernism and Design in Turin and Milan is due to run in October 2021, and will include a visit to Olivetti at Ivrea. Contact us to register your interest.

Founded in 1908, at Ivrea (north of Turin), by engineer Camillo Olivetti, first as an importer of American typewriters and later as a manufacturer of its own products, Olivetti was undoubtedly one of the most important Italian companies, above all, between 1945 and 1960. It was renowned not just for the excellence of its typewriters and electro-mechanical calculators, but also the exemplary way in which the company treated its staff. No other Italian company came close to matching Olivetti's corporate beneficence during this period. The person at the helm of the company from 1938 until his early death from a heart attack in 1960 was Adriano Olivetti, Camillo's son, who re-energised the company's fortunes after 1945, following his return to Italy after exile in Switzerland, having been branded a 'subversive' by the Fascist government.
During his years in exile, Adriano Olivetti developed his theories for a new civil society, which he called comunità. The literal translation of 'Comunità' as 'Community', does not do justice to its full Italian meaning from a sociological point of view, or as Adriano Olivetti intended. His manifesto called for defined social entities that were economically self-sufficient, where political and social change could be effected through communitarian action, and through a positive dialectic between companies and their workers. The Olivetti factory and its housing and community projects made manifest Adriano's ideas in microcosm. He worked with leading contemporary architects to produce beautifully designed and constructed buildings. In 2018, UNESCO classified the former Olivetti site as being of Outstanding Universal Value.
Olivetti's factories had large windows, allowing light to pour into the workshops. Production processes were efficiently organised, and workers were able to look out on to landscaped gardens, some with views to the Alps. Employees also had excellent benefits, including sick pay, maternity leave, and generous pensions. There were also schools for the children of its workers, high-quality employee housing, company holiday resorts, a factory shutdown during July, cultural services (such as libraries), social services and healthcare provision, and apprentice training schemes. From a business perspective, these policies were a resounding success, resulting in significantly increased productivity. With business booming, its superbly-engineered, beautifully designed products were exported globally in vast numbers.
Close collaboration between the designers and mechanical engineers was encouraged at Olivetti. For example, the designer, Marcello Nizzoli, worked closely with engineers Natale Capellaro and Giuseppe Beccio. It is these engineers whose names appear in the patents associated with famous Olivetti products, such as the Lettera 22 portable typewriter, but which are generally shown in books as having been designed solely by Marcello Nizzoli. The story of Natale Capellaro (1902-1977) is fascinating, because he was originally taken on as a 'garzone', or factory boy, but worked his way up to director of Olivetti's technical division.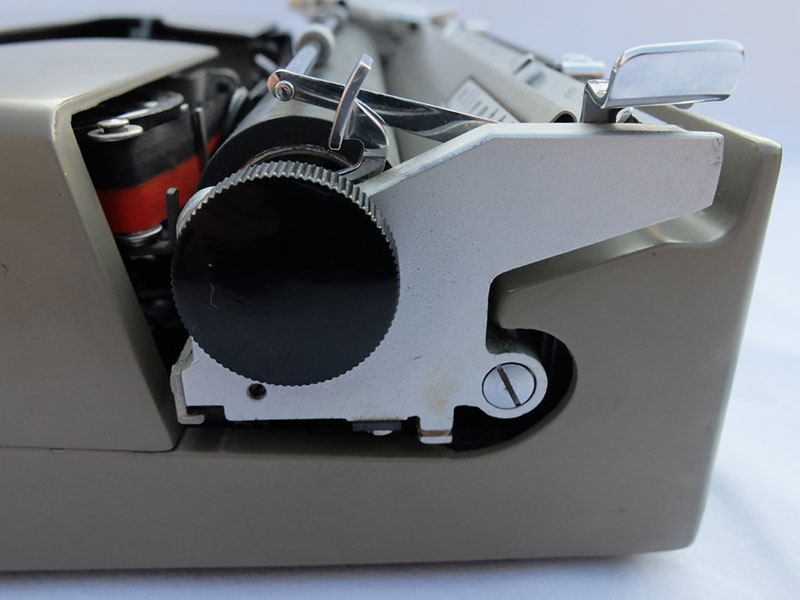 Olivetti 22 portable typewriter.

Olivetti's product designs from the 1940s to the 60s grace museum collections around the world, including the V&A in London and New York's MoMA. In 1959, in an international poll of top architects and designers by the Illinois Institute of Technology, the Olivetti Lettera 22 was named winner of 'The best designed product of the last 100 years'. Among the famous owners of a Lettera 22 were Leonard Cohen, Sylvia Plath, Gore Vidal, and Luchino Visconti. In the ten years from 1950, 200,000 Lettera 22 portable typewriters were sold annually. Today, owners of this sublimely elegant piece of communication history include Tom Hanks and the author of this piece!
Dr Philippa Joseph
MRT lecturer