'Picasso 1932' exhibition at Tate Modern
posted on 28/02/18
In March 2018, Tate Modern launches an innovative exhibition which takes a look at works from a single year in the life of Pablo Picasso.
France, 1932. Pablo Picasso's private life is complicated as ever. At his studio in Boisgelous, a passionate affair with muse Marie-Thérèse Walter; 28 years his junior, has now entered its fifth year. This is unbeknownst to his wife Olga Khokhlova in Paris, whose son with Picasso – Paulo – is eleven years old.
Surely not coincidentally, the tension and lust of this unsustainable tightrope act manifested itself in one of his most creative years, which Tate Modern has made the subject of its biggest exhibition of 2018. Featuring over 100 works, it takes a calendrical approach to the 50-year-old Picasso's 1932; a fitting treatment for an artist who termed painting "just another form of keeping a diary".
If you seek a painted zeitgeist for this year in Picasso's life, look no further than the portrait La Rêve (The Dream). It is on public display at this exhibition for the very first time, and was supposedly painted in a single afternoon. The artist portrays his subject in strikingly contrasted colours, but gone are the jagged outlines of his Cubist work and instead there is a serenity to the simplified and rounded form of the model (widely acknowledged to be inspired by Walter), in spite of the explicit depiction of desire. And then there is the scandalous shape of her upper head – as Simon Schama has observed, "sex is literally on her mind".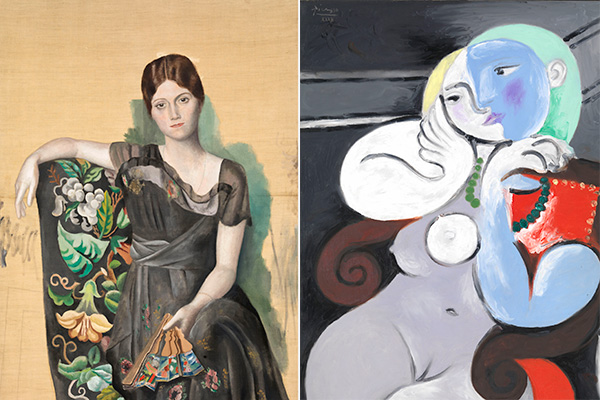 Picasso's wife, Olga Khokhlova, and the 'other woman', Marie-Thérèse Walter.
Portrait of Olga in an Armchair (Portrait d'Olga dans un fauteil), 1918, Oil paint on canvas, 1300 x 888 mm, Musée National Picasso | Nude Woman in a Red Armchair (Femme nue dans un fauteuil rouge), 1932, Oil paint on canvas, 1299 x 972 mm Tate. Purchased 1953.
Other highlights of the exhibition include Jeune fille devant un miroir (Girl before a Mirror), a signature painting that rarely leaves MoMA, as well as contrasting realist portraits of his wife and son, some from earlier in his career, reflecting his pride and tenderness towards his young family. 1932 ended traumatically for Picasso when Marie-Thérèse fell very ill after swimming in the Marne, losing most of distinctive blonde hair. In his final works of the year, Picasso transformed the event into scenes of rescue and rape, a dramatic denouement to a year of love, fame and tragedy that pushed Picasso to the height of his creative powers. Voluptuous sculptures and surrealist drawings complete what promises to be an intriguing snapshot of the artist's life.
The EY Exhibition: Picasso 1932 – Love, Fame, Tragedy will be at Tate Modern from 8 March until 9 September 2018.
By Miles Rowland, Digital Marketing Assistant.
---
If you would like to discover more about the life and work of Pablo Picasso, we are running a new Picasso in Spain tour in October 2018, which takes in some of the world's best galleries: his eponymous museums in Málaga & Barcelona, as well as the Reina Sofia in Madrid, home of his seminal painting Guernica. The tour is led by Gijs van Hensbergen, expert in Spanish art and author of a book on Guernica.
View itinerary for Picasso in Spain
View itinerary for Modern Art on the Côte d'Azur
View all tours with Gijs van Hensbergen
View all art and architecture tours