The highlights of Spanish cuisine – from Galicia to Andalucía
posted on 12/12/17
The nature of Spain's rich and varied cuisine is as much a lesson in history as it is in geography.
The Phoenicians and Romans left their culinary mark on Iberia, planting olive groves and vineyards, before the Moors broadened palettes with new foods and spices imported from North Africa and the Middle East. The final wave of the Spanish Reconquista in 1492 coincided with the discovery of the Americas and now integral ingredients such as the tomato, potato and bell pepper.
However, while these events are useful to understanding some of the component parts of Spanish dishes, there is far too much variety and locality to characterise the nation as a whole. Spain's 17 distinct autonomous communities and their constituent provinces in turn have preserved startlingly strong identities, and it is by taking in the country through its regional specialities that one begins to truly appreciate its cuisine.
In this article, we look at the cuisine of five Spanish regions, beginning at the Atlantic and finishing on the Mediterranean coast.
Galicia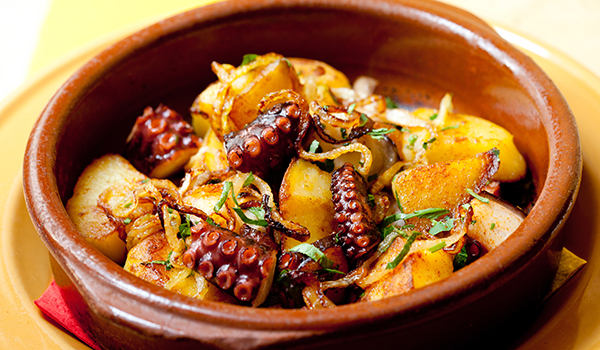 'Pulpo a feira', with roast potatoes.
We begin in Spain's northernmost tip, where a long seafood tradition has continued over millennia; unsurprising given Galicia's extensive Atlantic coastline. In particular, look out for the regional classic pulpo a feira – tender octopus seasoned with paprika, salt and olive oil, and the ubiquitous seafood feast, or mariscada. Aside from gigantic prawns and oysters, it often includes percebes – bizarre-looking barnacles that are harvested from rocks on the shore.
For the more adventurous, the Galician punch queimada is a potent mix of distilled wine spirit orujo, lemon peel, sugar and coffee beans. The concoction is then set on fire in a cauldron with incantations; in a ritual designed to ward off demons.
Castile and Léon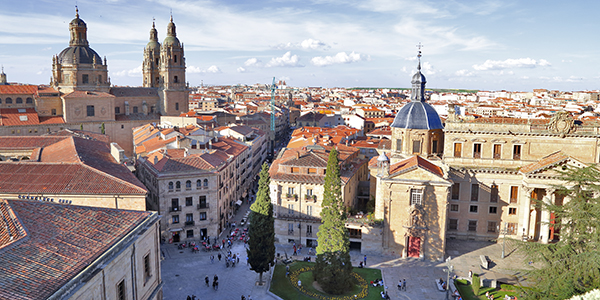 View of the city of Salamanca in Castile & Leon, from its cathedral.
Carnivores are sure to fall in love with Castile and Leon, where the maquis scrub of Spain's largest autonomous community plays host to Spain's best roast meat tradition. In particular, this is the land of milk-fed lamb or lechazo, perfumed by burning embers in a baker's oven. The result is thin crispy skin and deliciously tender meat.
Wine is another major export of the region, with the Ribera del Duero (Golden Triangle) –producing world class tempranillos such as Pesquera, Malleolus, Pago de Carraovejas. Elsewhere there is the legendary Vega Sicilia, whose Unico variety is only released 10 or even 15 years after bottling.
Basque Country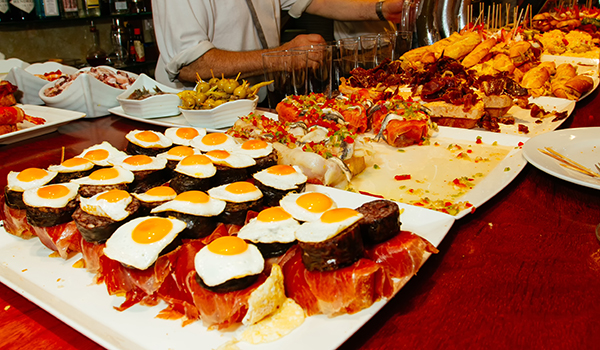 A selection of Basque 'pintxos', San Sebastián.
Over in the north-east of Spain, the fiercely guarded traditions of the Basque people are seldom more marked than in their cuisine. In Basque cider houses or sagardotegis, (think somewhere between a bar and a steakhouse) locals come not just for a chilled glass of Sagardoa, but often for a three-course meal including cod omelette, steak and the wonderfully nutty Idiazabal sheep's cheese.
The Basque Country also boasts Spain's gastronomic capital, San Sebastián. Alongside a nearly unrivalled number of Michelin-star restaurants, the bars of the city are amongst the best locations to sample pintxos. The Basque take on tapas, they usually consist of small pieces of bread, topped by items including hake, cod, anchovies and tortilla de patatas; skewered by a toothpick.
Valencia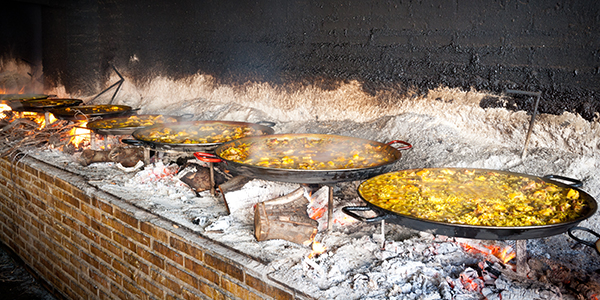 Valencian paella cooked on a log fire.
The Mediterranean coastline of Valencia is the birthplace of Spain's most famous dish: Paella. The saffron-stained rice dish comes in two main varieties here; with seafood or with chicken and rabbit meat. For a slightly disconcerting looking twist on the dish, try arroz a negre, which is a black paella, coloured by squid ink.
Valencian cuisine is also full of more low-key pleasures – such as delicious almond biscuits, the milky tiger nut drink Horchata and Aqua de Valencia, a highly potent fresh orange-based cocktail.
Finally, simply wandering the markets of the region is always a treat. With its abundance of fresh seafood, fruit and vegetables, Valencia earns its reputation as the nation's larder.
Andalucía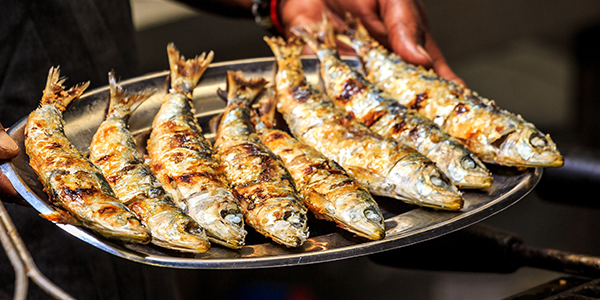 An 'espeto de sardinas'.
Andalucía's rich variety of terrain and climate is reflected in its cuisine. The hills above Seville are home to herds of Black Iberian Pigs, farmed for the unrivalled jamón ibérico – the melt-in-your-mouth cured ham which undergoes a five-year journey from farm to plate.
Meanwhile the oaky Montilla wines across in Córdoba arguably rival their more famous cousins in Jerez, with the added bonus of vineyard visits free of tourists. They are very well matched with a traditional dish of fried aubergines and rabo de toro (oxtail).
On the Mediterranean coast of Málaga there is no greater seaside treat than espeto de sardinas – sardines cooked on a skewer over a log fire. They are so small that they can be eaten whole, and have a delicious smoky flavour.
Our range of Gastronomy tours visit all these Spanish regions and more. They combine samplings of regional classics with visits to more cutting-edge restaurants, many with Michelin stars. Excursions to local farms and vineyards and cooking demonstrations are also on the menu. All meals are paired with the highest standard of wine.
Our Spanish gastronomy tours are led by Gijs van Hensbergen, an expert on Spanish cuisine and art and the author of a range of books, including In the Kitchens of Castile.
Gastronomic Valencia – food and art in south-east Spain (23–30 April 2018)
Bilbao to Bayonne – food, art & architecture in the Basque lands (3–10 September 2018)
Gastronomic Galicia – food and wine in an enchanting corner of north-west Spain (17–24 September 2018)
Gastronomic Spain – art, food & wine in Madrid & Castile (15–22 October 2018)
Gastronomic Andalucía (March 2019 – Please register your interest)
By Miles Rowland, Digital Marketing Assistant
View all tours with Gijs van Hensbergen